Top 20 Handpan Players Every Player Should Know (Alphabetical Order)
professional drummer/percussionist
professional drummer/percussionist based in melbourne australia.
Adrian started playing the drums from the age of 10 and touring the country in his father's band at 12 years of age. Performing every week he gained a lot of experience in his younger years, which helped him become the musician he is today.
Handpan - Pantam player / percussionist / composer
Grammy nominated artist in 2017, running for "Best World Music Album" category, with Anat Cohen and Trio Brasileiro: "Rosa dos Ventos".
Member of Trio Brasileiro, Caraivana group and Irmãos Lora project, Alexandre is constantly travelling to perform inside Brasil, in the US and Europe.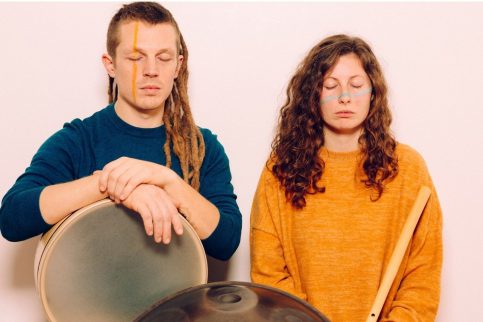 Handpan players and Tearchers
Together, Archer & Tripp have over 20 years' experience of playing handpan. Samantha's classical training during her child and teenage years in piano, clarinet and vocals allowed her distinctive and instinctive sense for melody to flower into a skill for both improvisation and composition.
American multi-instrumentalist
Dan Mulqueen is an American multi-instrumentalist from New Jersey. Dan's music is centered around an instrument called the "Handpan", an instrument created in 2001 in Switzerland. This instrument allows the player to create a rh ythm and a melody simultaneously using only the hands. Determined to push the limits of music revolving around this instrument, Dan's playing style is both beautifully melodic and intensely percussive.
multi-instrumentalist and Tutor
As a multi-instrumentalist, I'm passionate about rhythms and melodies. In 2004, I discovered the handpan, a unique 'sound sculpture' with enchanting tones. My study of this instrument and my desire to compose have allowed me to share my music throughout the world. Whether as a solo artist, part of a duo, or with a bigger group, I love to show my passion and help people to discover this instrument.
Francis learned to open himself to new horizons over time and it is through multiple periods of introspection that he began the formation of his ideal. This brought a series of events that would change his daily life and guide him towards awakening. A personal awakening, but especially passionate. It was when he discovered handpan that he knew music would guide his life.
Handpan player and drummer
Gabriele Pollina is a Handpan player and drummer from Italy. His music style combines Handpan Music and electronic beats played live with percussive electro pedals. In 2016 he started a music trip throughout Australia, Asia and Europe, during this journey he has had the possibility to discover and be influenced by different musical cultures and styles, playing with multiple musicians around the world.
professional musician, drummer, teacher, world percussionist
The way he introduces himself: "I'm a professional musician, drummer, teacher, world percussionist and proud father, rooted in Northeast Pa, I've been playing music since the age of 7 and have been teaching for over 10 years.  I'm a Berklee College of Music grad and have had the incredible opportunity to play with some of the finest musicians.  I hope I can either inspire or move you through my music.  Music is my way to meditate & give back to this world, it's my soul's gift.  I love to perform and teach others to do the same."
Multi-instrumentalist and ingenious of sound, Jérémy Nattagh has brought together all his influences and experiences in a unique show, Panoramic. Surrounded by his 4 hangs and his drums played on the feet, he will take you into the intoxication of ethnic grooves, acoustic trance and the lyricism of his compositions.
Inspirational Handpan Player. Teacher.
exploring music and sound with his unique, poetic, and percussive style, he pushed forward the art form and extended the musical universe of handpans/pantams.
He was a boy when, with percussions and rhythm, Kabeção fell in love for sound exploring. Self-taught, he never stopped since then to experiment different types of instruments – from strings to woodwinds – combining eclectic influences and his very personal approach to sound into powerful music. 
Handpan Player, Percussionist, Multi-instrumentalist, Teacher
Aurent grew up in a musical family and his passion for music started early. He began learning piano at the age of 6, then expanded his range of skills by studying percussion: classic and contemporary first (timpani, vibraphone, etc.), then drums from various continents (congas, cajon, West African balafon) and drums, chromatic balafon, Hang and handpans.
musician and handpan player
As he says: "I am a musician and handpan player from Linz (located in Austria/Europe)." He got his first handpan in 2012 and because there was no one who could have taught him how to play at that time, he started self-learning. About this experience he always says that: "A completely new chapter of my life began, because of my (seemingly) endless passion for these instruments, and now I am travelling around the world while my collection of handpans is growing more and more."
singer, composer and multi-instrumentalist
Mayiia is a German singer, composer and multi-instrumentalist. Her compositions move between jazz, pop, ambient and world music. Wide landscapes and moving surfaces that interweave and dissolve again.
multi-instrumentalist, singer, handpan player
Mumi is an Italian multi-instrumentalist, singer, and above all else, a Handpan player and maker. Her musical path started when she was just five years old when she started training as a classical pianist. She delved further into music history and theory, graduating from a school of music.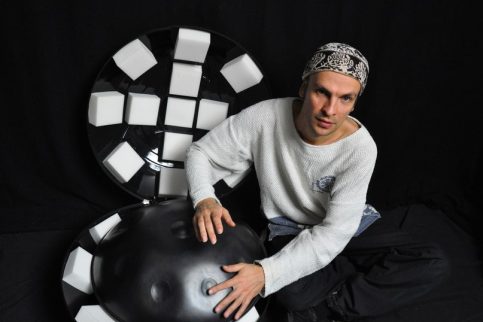 multi-instrumentalist, composer and sound designer
Nadishana is a multi-instrumentalist, composer and sound designer from Siberia, who creates his own unique and innovative approach to world fusion music – the creative synthesis of different musical traditions of the world on the basis of contemporary technologies. He plays on more than 200 instruments of the world, including self-created ones.
Handpan played solo, with Epock (beatbox), Ogma (harp) and others
Tom Vaylo is an acoustic musician since his very young age (flute, saxophone, guitar, Handpan, percussions,…..) who then got into electronic music. In his quest for new ways of sharing his love for music, and taking the audience with him on a musical trip, he now mixes both, adding handpan playing to track living on stage, each track being inspired by one of his own travel.
Italian Handpan player, maker and tuner
Valerio Menon is an Italian Handpan player, maker and tuner based in Switzerland. So far, he played over 200 concerts in 12 different states, produced 3 cd's (the last one also distributed in USA by AllAgainstOne Records) and since 2017 works, as a maker and tuner, for EchoSoundSculpture.
Waagal can be called a "one man band" from multi-instrumentalist Erwann Texier-Harth. Guitar, didgeridoo, handpans, kashaka, kalimba and others instruments are played simultaneously to create a solo performance where the musician keeps pushing his limits. Drawing from music and cultures around the world, Waagal mix thousand-year-old sounds and innovating rhythms.